For those who have been relying on dermal fillers as a nonsurgical option to address under-eye bags, the constant upkeep and repeated injections may become less appealing over time. As a result, many are turning to blepharoplasty, a surgical procedure designed to specifically address this issue. This cosmetic surgery, also known as eye bag surgery, offers a long-lasting and highly effective treatment option for those seeking to rejuvenate their facial appearance.
The procedure involves the careful removal of excess skin and fatty tissue from the under-eye area through a subsidiary incision (just below the lower lashes). This approach allows the surgeon to address the bags, loose skin, and wrinkles, achieving a natural appearance while enhancing the overall eye area.
Let's delve into the details of lower blepharoplasty, a specialized form of cosmetic eyelid surgery, to understand its benefits, risks, and overall impact.
The Rise in Lower Blepharoplasty
Lower blepharoplasty, a specialized cosmetic eyelid surgery, has seen a surge in popularity due to its effectiveness in addressing a common aesthetic concern: under-eye bags. It serves as a more specialized surgery for eye bags.
This cosmetic surgery, performed by Dr. Ember Ewings, is a sought-after treatment option for those seeking to enhance their facial appearance by eliminating the tired appearance often associated with bags under the eyes.
The procedure involves the careful removal of excess skin and fatty tissue, which often accumulate due to age, lifestyle factors, or genetic predisposition. The delicate skin around the eyes, particularly the eyelid skin, is prone to developing loose skin and fat pockets, leading to a puffy or aged appearance.
Lower blepharoplasty effectively addresses this issue by tightening the skin and removing the redundant skin, resulting in a more youthful and natural appearance.
Understanding Eye Bags and Aging
Under-eye bags are a natural part of the aging process. As we age, the delicate skin and tissues supporting our eyelids begin to have skin laxity. This loss of elasticity, coupled with the weakening of the muscles around the eyes, allows fat tissues to accumulate below the eyes.
This excess tissue and any extra skin contribute to the formation of under-eye bags, making surgery for eye bags an increasingly popular solution for those who wish to maintain a natural appearance.
Also, the skin around the eyes is thinner than the skin on the rest of the face. This thin layer of skin, often referred to as eyelid skin, is more prone to showing signs of aging, including wrinkles and dark circles. Therefore, lower blepharoplasty serves as an effective cosmetic eyelid surgery for addressing these concerns.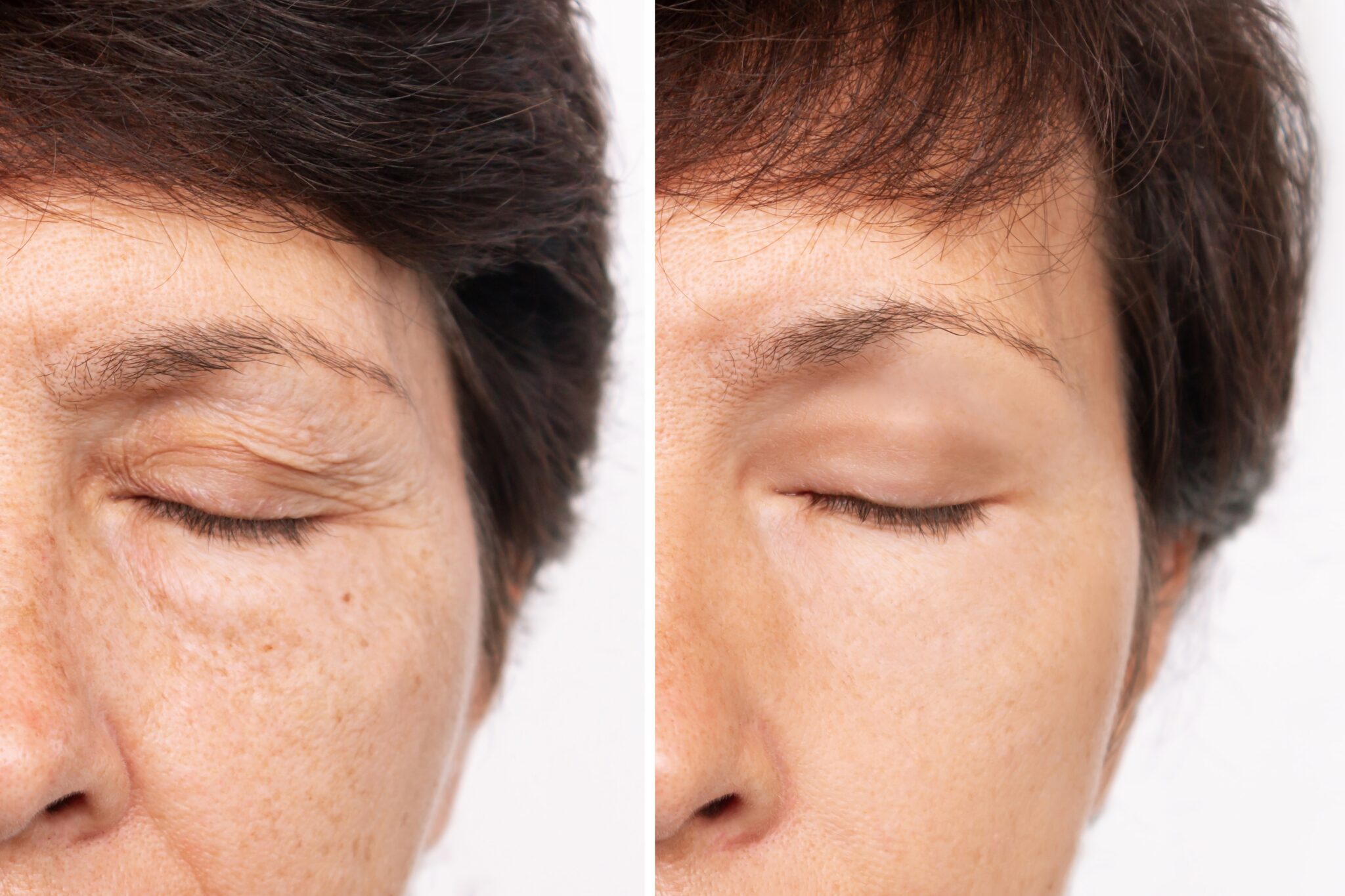 Benefits of Lower Blepharoplasty
Lower blepharoplasty is a specialized cosmetic eyelid surgery that offers many benefits for those seeking to rejuvenate their facial appearance. One of the primary benefits of the procedure is its ability to address dark circles or hollows under the eyes. By removing excess skin and fatty tissue from the undereye area, this approach can reduce dark circles and brighten up the entire eye area. Additionally, this treatment option eliminates the need for costly dermal fillers or other treatments used to address aging in this area.
In addition to treating dark circles, lower blepharoplasty can also be used to correct sagging upper eyelids, which can cause an aged appearance around the eyes. It can also be used in combination with laser resurfacing procedures to further refine and improve the overall look of the eye area. Furthermore, it can help combat issues such as eyelid retraction or tear troughs, which often occur as we age.
Finally, lower blepharoplasty helps to support and strengthen facial muscles around the eyes, giving them a more youthful glow by improving their tone and texture. It is also less invasive than other eye treatments, such as Botox injections, making it an appealing option for those looking for a less risky approach when it comes to enhancing their facial features. Overall, lower blepharoplasty offers a safe and effective solution for addressing common issues related to aging around the eyes without needing any downtime or extensive recovery times.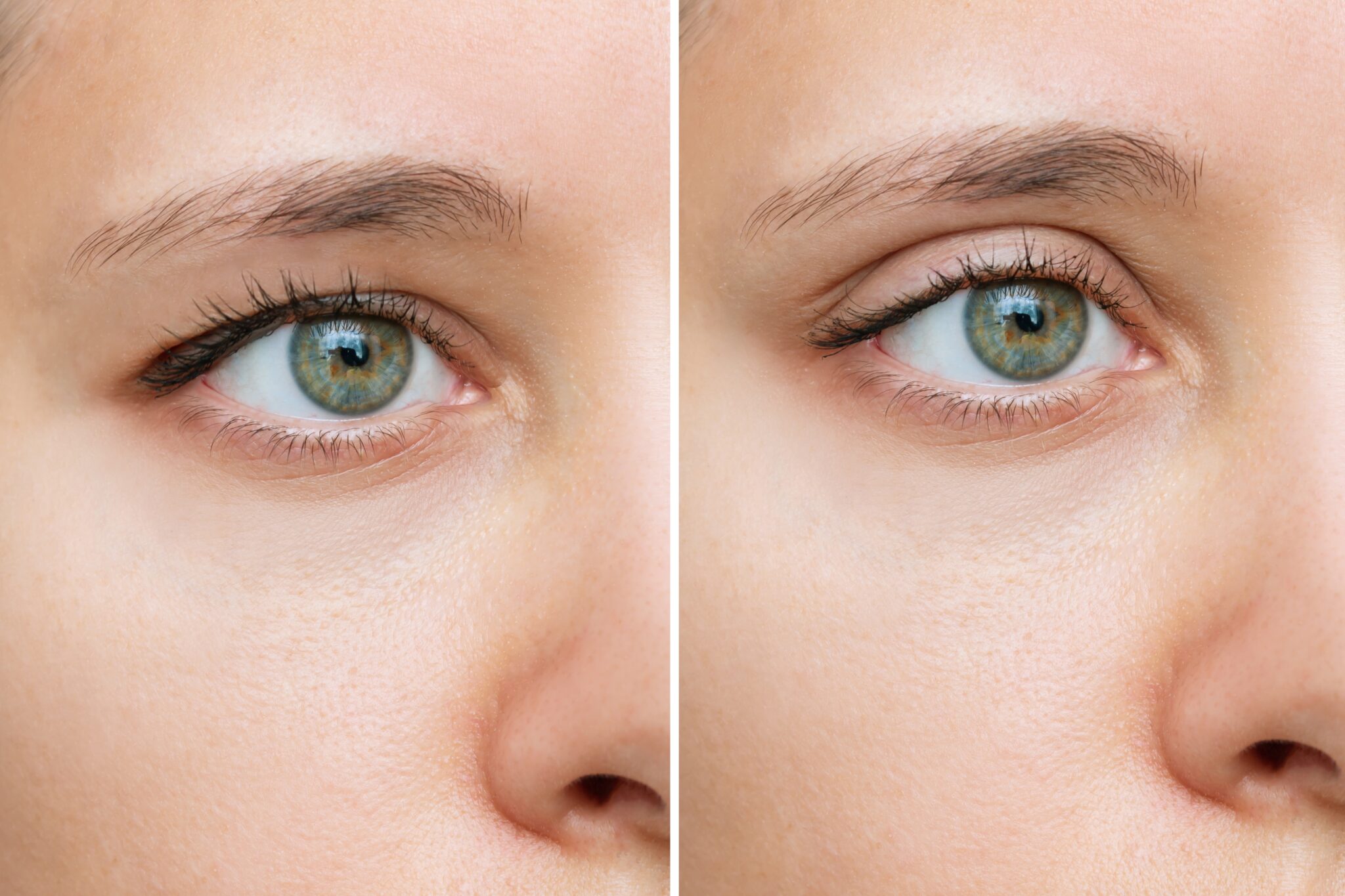 Risks Associated with Lower Blepharoplasty
As with any surgical procedure, eye bag surgery has some potential risks and complications. These can range from common post-operative symptoms to rare but serious complications.
One of the most common side effects is dry eyes, a condition that can be managed with the use of eye drops prescribed by your healthcare provider. Watery eyes, another common side effect, can also occur as your eyes adjust to the changes post-surgery.
Pain is another potential risk, although it is usually manageable with over-the-counter pain relievers or prescribed medication. Swelling is a normal part of any recovery process and can be managed by applying cold compresses to the eye area. Bruising, while common, typically subsides within a few days after surgery.
Some patients experience temporary blurred vision due to swelling or the use of ointment in the eyes during the procedure. Any changes in vision, such as double vision or loss of peripheral vision, should be reported to your surgeon immediately.
What Lower Blepharoplasty Results Can I Expect?
Lower blepharoplasty is not just an eye bag surgery; it's a comprehensive eye rejuvenation treatment. It can dramatically enhance eye skin, reducing the appearance of dark circles and eye wrinkles. The procedure can also address other cosmetic concerns related to the eyes, such as droopy eyelids or eyelid retraction.
The procedure can effectively reduce the tired appearance often associated with under-eye bags, replacing it with a more youthful and rested appearance. The results of lower blepharoplasty for eye bags are typically long-lasting, offering a rejuvenated appearance that can significantly boost your confidence.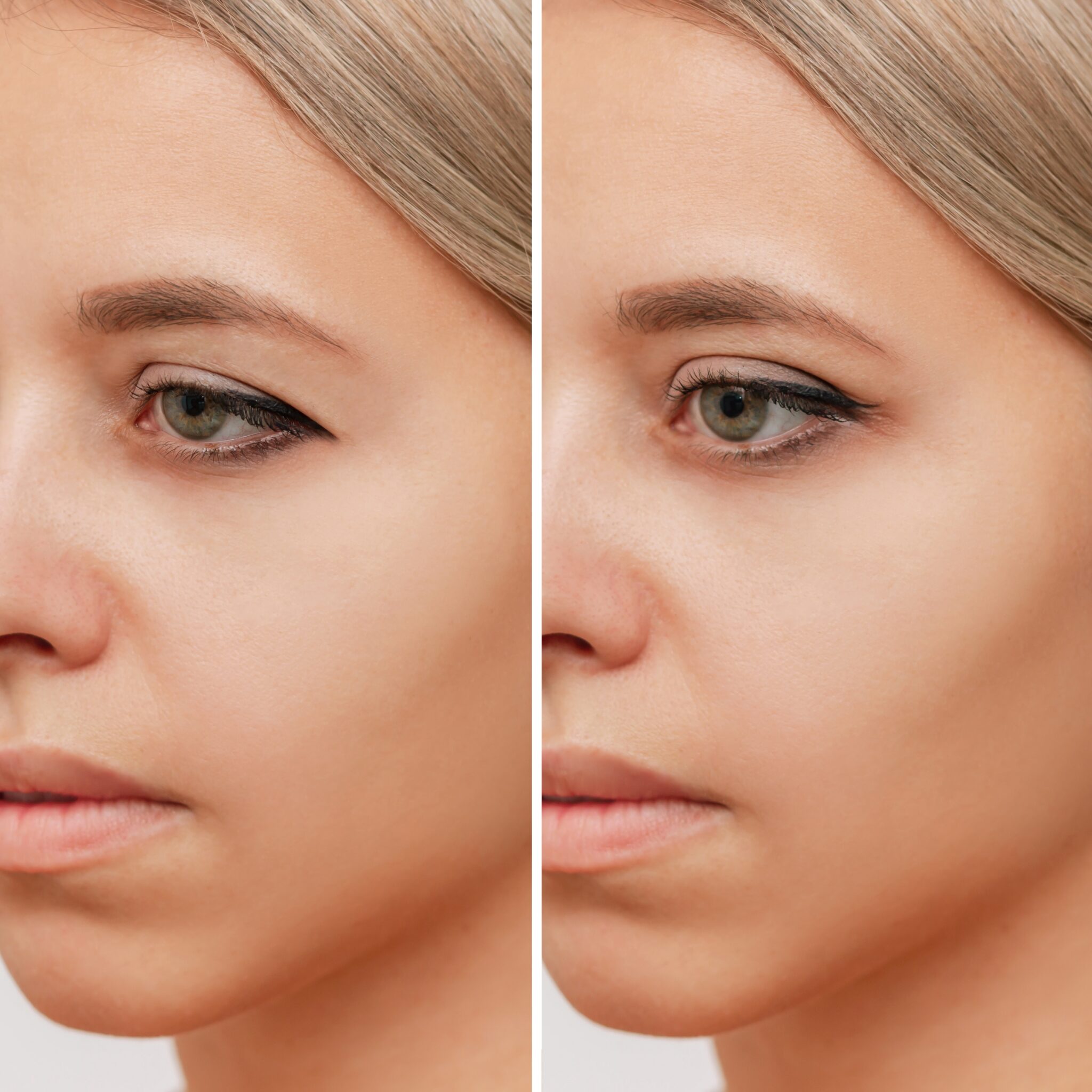 Selecting the Right Surgeon for Lower Blepharoplasty
Selecting the right surgeon is important when considering lower blepharoplasty for eye bags. It is essential to research different surgeons and their credentials before making a decision. One highly recommended doctor for this procedure is Dr. Ember Ewings, an eyelid specialist in Los Angeles who specializes in fluid retention removal through eyelid blepharoplasty. Dr. Ewings' approach focuses on improving the vibrant appearance of the eyes through a scarless approach to the blepharoplasty procedure, eliminating excess skin and tissue while addressing eyelid wrinkles for a more youthful look. Additionally, she has extensive experience with complex cases that require additional work, such as suture suspension or laser resurfacing. With her expertise, you can be sure that your eyes will look better than ever after the procedure!
Conclusion: Weighing the Pros and Cons
Lower blepharoplasty is an effective solution for under-eye bags, offering long-lasting results and a more youthful appearance. However, like any surgical procedure, it comes with potential risks and side effects.
It's important to weigh these against the expected benefits and discuss them thoroughly with your surgeon. The experience and expertise of the surgeon are critical in avoiding these risks.
Remove Your Eye Bags at Boston Center for Facial Rejuvenation
At The Plastic Surgery Clinic of Eau Claire, Dr. Ember Ewings offers extensive expertise in lower blepharoplasty and other surgical and non-surgical procedures. We are committed to providing excellent patient care and satisfaction, ensuring that each patient receives a personalized treatment plan designed to meet their unique needs and aesthetic goals. Contact us today to schedule your consultation.
Lower Blepharoplasty FAQs
When do lower blepharoplasty results appear?
Lower blepharoplasty results typically appear after several weeks as the excessive skin and dark appearance from the procedure fade away. The popular eyelid blepharoplasty procedure is offered by many cosmetic surgeons and can help to reduce eye bags and wrinkles around the eyes.
How do I minimize scarring after lower blepharoplasty?
To minimize scarring after lower blepharoplasty, opt for an experienced surgeon who specializes in scarless eyelid surgery. They can also use injectable fillers to address any visible external scars in the under-eye area and help reduce the appearance of eyelid bags. Additionally, having eye surgery performed by an experienced surgeon is essential for reducing any risk of post-surgical scarring.
Are the results from lower blepharoplasty permanent, or will I need follow-up procedures in the future?
The results of lower blepharoplasty are generally very long-lasting. However, you might decide to have surgical or non-surgical treatment at some point in the future.
What is the average cost of lower blepharoplasty, and does insurance cover this surgery?
The cost of lower blepharoplasty varies depending on various factors, including the complexity of the surgery and the surgeon's experience. As it's typically considered a cosmetic procedure, it's usually not covered by insurance. 
Does lower blepharoplasty change the shape of your eyes?
Lower blepharoplasty primarily addresses under-eye bags and does not typically alter the shape of the eyes. However, it can enhance the overall appearance of the eyes by removing puffiness and excess skin.