For many people, dissatisfaction with the appearance of their nose isn't quite enough to justify a surgical procedure like rhinoplasty, also known as a "nose job." Small imperfections, however, can still impact a person's facial balance, confidence, and self-esteem. In these cases, a liquid rhinoplasty or non-surgical nose job can be the perfect solution. Board-certified plastic surgeon Dr. Ember Ewings is proud to offer non-surgical rhinoplasty in Eau Claire, Wisconsin, to patients who want to look their best without the expense and commitment of plastic surgery.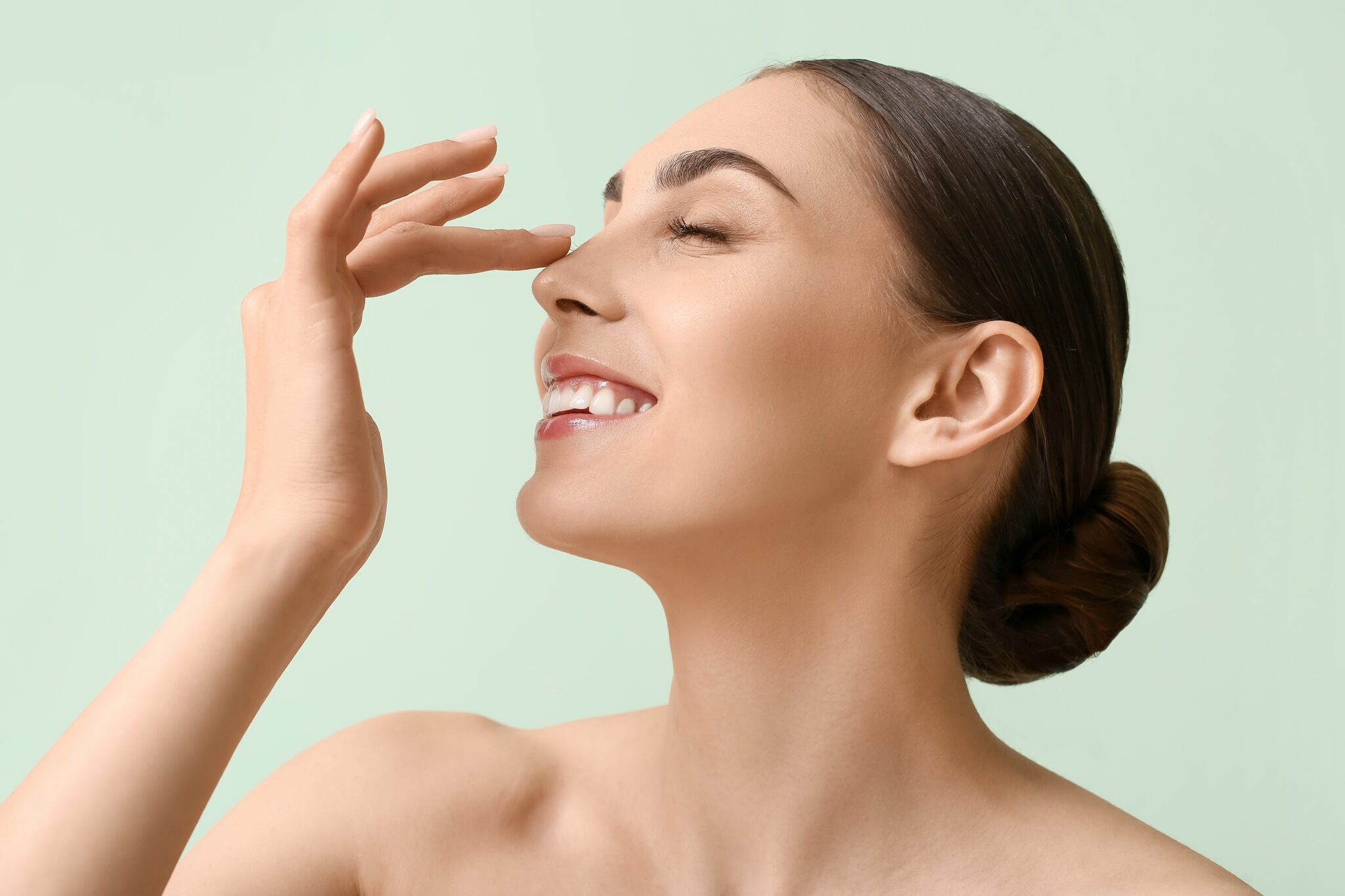 What is a Liquid Rhinoplasty?
A liquid rhinoplasty, also known as a non-surgical nose job, is performed to correct minor aesthetic problems affecting the nose, such as the presence of a Dorsal Hump. Using hyaluronic acid-based fillers like Restylane or Juvederm, Dr. Ewings can fill in indentations, subtly improve the shape of the nose, and even enhance facial balance by making small adjustments to the nose.
Unlike rhinoplasty surgery, the procedure does not affect the structure of the nose and cannot improve breathing for patients. However, it is the perfect solution for patients who have minor aesthetic complaints and are unable or unwilling to move forward with a surgical procedure.
Benefits of a Liquid Rhinoplasty
There are several benefits of a non-surgical nose job. Many patients choose this option because they have busy lives and do not want to deal with the hassle of the recovery that is required by cosmetic surgeries like rhinoplasty. Some individuals have concerns about the risks associated with rhinoplasty surgery. However, there are several benefits to consider when opting for a liquid rhinoplasty.
A brief, non-invasive procedure
No anesthesia and little to no downtime
Instant results
Subtle, but noticeable improvement in the aesthetics of the nose and face
Improved confidence
Enhanced facial balance
Ability to "preview" changes possible with rhinoplasty surgery
No scarring and lower risk of developing complications
Long-lasting results – typically 1-2 years
Liquid Rhinoplasty Before and After Photos
View our before & after photos
* Each patient is unique and individual results may vary.
Am I a Candidate for the Procedure?
Although non-surgical nose jobs are growing in popularity, they are not appropriate for every patient. Dermal fillers are very safe, and while most patients are healthy enough for the procedure, there are limits to what the procedure can accomplish.
If you are a healthy adult with only minor aesthetic concerns and realistic expectations, you may be a great candidate for a non-surgical rhinoplasty in Wisconsin.
Patients with breathing problems or significant cosmetic issues, such as crookedness or a prominent nasal "hump," will likely not be able to get their desired results from a non-surgical nose job. Many patients need surgical correction in order to reach their goals.
Your Liquid Rhinoplasty Consultation
Dr. Ewings will be able to tell you if you are a good candidate for a liquid rhinoplasty during your consultation at her office in Eau Claire, Wisconsin. During this initial meeting, Dr. Ewings will examine your nose and ask you about your goals, explaining how a non-surgical nose job will affect the appearance of each facial feature.
Once she has performed her exam, she will review your health history and decide whether or not you are a good candidate. If she believes rhinoplasty surgery or another procedure is a better fit for your needs, she will recommend an alternate treatment plan.
You should come to your consultation with any questions you may have and use this opportunity to get to know Dr. Ewings and her staff. You should have all the information you need to make a decision after your meeting with the doctor.
The Liquid Rhinoplasty Procedure
Non-surgical cosmetic procedures are performed in the clinic on an outpatient basis. Before the procedure, Dr. Ewings will apply a topical anesthetic to make the treatment more comfortable. The entire liquid rhinoplasty procedure takes 30 minutes or less to perform.
Once the area is numb, Dr. Ewings uses a fine needle to inject a dermal filler into different areas of the nose. She will reshape the nasal tip, bridge, or other areas of the nose according to the patient's goals. No stitches or dressings are necessary, and patients can go about their day while enjoying instant improvement.
Recovering from the Liquid Rhinoplasty Procedure
There are very few activity restrictions and side effects following a non-surgical nose job. Patients will need to refrain from strenuous exercise for 1-2 days and should avoid irritating, bumping, or putting pressure on the nose until it is fully healed.
Minor discomfort, bruising, and swelling may occur, but these side effects should resolve within the first week. Patients can go back to work and other activities right away.
Call us today!
Our staff is happy to help you!
Results of a Liquid Rhinoplasty
While patients who undergo rhinoplasty surgery have to wait months before seeing their final results, a liquid rhinoplasty produces near-instant improvement. Minor swelling may affect the appearance of the nose during the first few days, but this will resolve quickly.
Patients should notice improved facial balance, facial aesthetics, and improvement in their individual cosmetic concerns. Many people use this treatment to "test out" changes to their nose before moving forward with a surgical procedure. The results typically last 1-2 years, leaving plenty of time for patients to make a decision about their future treatment options.
Potential Risks & Complications about Liquid Rhinoplasty
Liquid rhinoplasty is very safe when performed by a board-certified plastic surgeon like Dr. Ewings. Although complications like asymmetry can occur, they are rare. Minor side effects like swelling, bruising, and tenderness are normal during the first few days.
If the patient is dissatisfied with the results, injections of hyaluronidase can be given to dissolve the filler so the treatment can be adjusted or reversed. Overall, non-surgical rhinoplasty is an extremely low-risk procedure that is safe for most patients.
Why Choose Dr. Ember Ewings
For over a decade, Dr. Ember Ewings has taken pride in delivering excellence in plastic surgical care. She earned her medical degree from the University of Wisconsin-Madison School of Medicine and completed her surgical residency training in plastic surgery at Saint Louis University. Additionally, she gained extensive experience in pediatric and craniofacial surgery during her fellowship at the University of Tennessee – Memphis, and Hôpital Necker-Enfants Malades in Paris, France. Dr. Ewings is also Board Certified by the American Board of Plastic Surgery.
Dr. Ewings has enjoyed caring for patients of all ages from across the upper Midwest, and performs both cosmetic surgical, non-surgical, and reconstructive procedures, and is delighted to be able to provide outreach services in Durand, Wisconsin.
She owns and operates the Plastic Surgery Clinic of Eau Claire in Eau Claire. Prospective patients can reach Dr. Ewings through her online Consult Form, or at her practice, Plastic Surgery Clinic of Eau Claire – 715.833.2116 or 800.456.8222.
Frequently Asked Questions About Liquid Rhinoplasty
Can a non-surgical nose job be repeated?
Yes! Many patients are thrilled with their results and wish to maintain them once the initial injection has worn off. Hyaluronic fillers are typically very safe and can be repeated as patients wish. Alternatively, some patients choose to move forward with rhinoplasty surgery after their non-surgical results wear off so that they can enjoy permanent results.
What if I don't like my results?
Though most patients love their results, it is possible to reverse the procedure using a filler dissolver known as hyaluronidase. This gives patients peace of mind when they choose a non-surgical nose job. They know that if the results don't look as they expect, they don't have to live with the changes for a year or more. To avoid dissatisfaction, it is important for patients to have realistic expectations and to understand the limits of the procedure. Looking at the before and after photos of previous non-surgical nose job patients can help set appropriate expectations.
Can fillers make my nose look smaller?
Unfortunately, a liquid rhinoplasty cannot achieve the results a reduction rhinoplasty provides. Although the procedure can smooth out small lumps and sometimes create the illusion of a smaller nose, it is important to remember that a non-surgical rhinoplasty involves adding a small amount of volume. To make a nose look smaller, surgical intervention is necessary.
Do the injections hurt?
Topical anesthesia is applied before the treatment to help reduce any discomfort from the injections. Patients may experience some tenderness and discomfort for the first few hours, but this should be minor. Most patients tolerate the treatment very well.
Do the injections hurt?
Topical anesthesia is applied before the treatment to help reduce any discomfort from the injections. Patients may experience some tenderness and discomfort for the first few hours, but this should be minor. Most patients tolerate the treatment very well.
Can a liquid rhinoplasty fix the tip of my nose?
A liquid rhinoplasty is a great option for patients who have aesthetic problems with the nasal tip. Dermal filler injections can shape, refine, and lift the tip for an improved appearance. Dr. Ewings will advise you on whether or not your specific concerns can be addressed with a non-surgical rhinoplasty.
What liquid rhinoplasty office is near me?
If you live near Eau Claire, WI, Plastic Surgery Clinic of Eau Claire offers liquid rhinoplasty among its services, and is conveniently located at 3221 Stein Blvd #2 Eau Claire, WI 54701
Schedule Your Consultation
If you're interested in learning more about whether or not a non-surgical nose job will help you reach your goals, contact the Plastic Surgery Clinic of Eau Claire to schedule a consultation with Dr. Ember Ewings. She helps patients in Wisconsin look and feel their best by offering skills, experience, and compassion throughout the treatment process. Call 800.456.8222 or schedule your appointment online. We look forward to helping you reach your aesthetic goals!