Sometimes, even after a great night's sleep, it can be hard to feel alive and vibrant when you see those tired, drooping eyes looking back at you in the mirror. Loose skin over your eyes and bags below them can make you look tired and older than you feel. If this sounds familiar, you're not alone. Blepharoplasty, or eyelid surgery, is the third most popular cosmetic procedure in the country. Its sometimes called an "eyelid lift" and Plastic Surgery Clinic of Eau Claire is proud to offer the procedure in the Eau Claire, Wisconsin area to patients who are looking for a more refreshed and rejuvenated appearance. As a board certified plastic surgeon, Dr. Ember Ewings has performed many of these procedures and looks forward to helping you look more youthful, alert, and vibrant.
Why Choose Eyelid Surgery?
As we age, the skin around our eyes loses its elasticity. Many people develop loose folds of skin on the upper eyelids and deep creases under the lower lids. At the same time, the muscles in this area may slacken so that fat bulges forward under the eyes, producing a baggy appearance. It is important to note that people can develop under-eye bags in their twenties before the skin begins to change. This is typically due to an inherited family trait.
Whether drooping eyelids and eye bags are the results of aging or heredity, eyelid surgery can reshape the area for a more awake and alert appearance. Many people choose blepharoplasty because they want to feel more confident and youthful.
Who are good candidates for Eyelid Surgery?
Eyelid surgery is a great option for men and women who are in good health but whose eyes are hidden by excess fat or sagging tissue in their upper and lower eyelids. Patients who want brighter eyes that make them look more alert and youthful are typically pleased with the results of this surgery.
We do not recommend this procedure for patients with dry eyes, glaucoma, diabetes, heart disease, or hypothyroidism. Although most patients who undergo blepharoplasty are 35 years of age or older, patients who have droopy, baggy eyelids in their genetics may want to schedule this procedure at a younger age.
The Blepharoplasty Consultation
During an initial consultation in one of our locations in Wisconsin, Dr. Ewings goes over the patient's health history, goals, and expectations. Depending on the condition of the skin, patients may be given several conservative treatment options including chemical peels or laser treatments as alternatives to surgery.
If however, the physical findings are excessive skin and an actual bulging of the tissues, then blepharoplasty is usually the surgical treatment we will recommend. We encourage patients to bring any prescription glasses or contacts with them and to prepare a list of question to ask the doctor.
Blepharoplasty Before and After Photos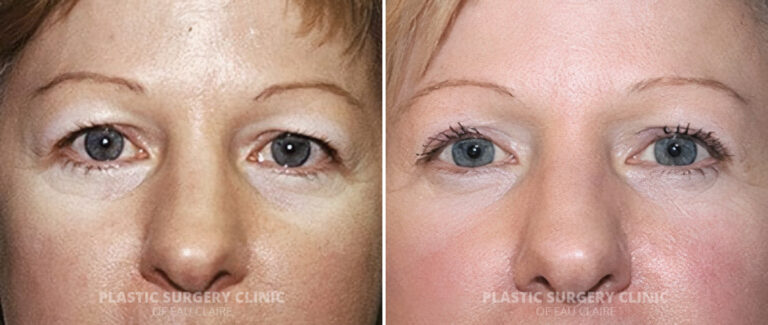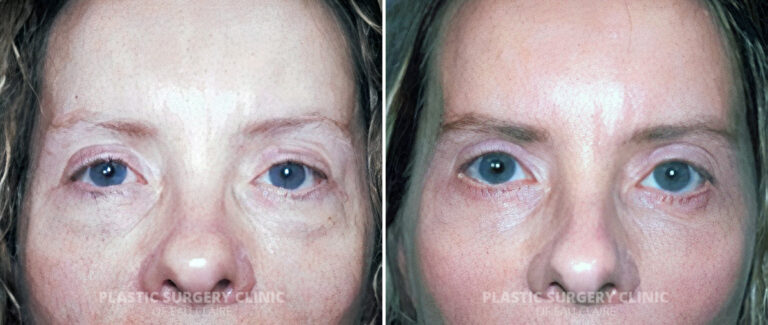 * Each patient is unique and individual results may vary.
Above:
1st patient: 36 y/o requesting reduction in the amount of skin of the upper eyelid. Bilateral upper eyelid surgery performed in our office under local I.V. Sedation. Operative time 1 hour. Postoperative photos at 4 months.
2nd patient: 24 y/o with complaint of bulging of lower eyelids. Patient under went a lower eyelid blepharoplasty, performed in the office under a local I.V. sedation. Post-operative photos at 3 months.
3rd patient: 55 y/o female with complaint of excessive skin of the upper lids. Underwent bilateral upper lid blepharoplasty in office. Post-operative photos after 4 months.
Preparing for the Blepharoplasty Procedure
Patients who have scheduled a blepharoplasty to get rid of their droopy eyelids and remove excess fat under the eyes should adhere to certain pre-procedure instructions. If they smoke, they will need to quit several weeks before their surgery and continue to abstain for several weeks afterward as smoking can interfere with recovery and increase the risk of complications.
Patients should also stop taking any medications or supplements that may lead to increased bleeding at least one or two weeks before their procedure. Some examples of these medications are pain relievers like ibuprofen, aspirin, and prescription drugs like warfarin.
Lastly, patients should make arrangements for a family member or friend to drive them home after the procedure and should refrain from wearing any lotion or makeup on the day of the procedure.
The Blepharoplasty Procedure
Blepharoplasty is usually performed in our office surgical suite. It is generally performed under a local anesthetic with mild I.V. sedationm, but depending on the case the patient may require general anesthesia. We place the incisions in the natural crease above each eye to correct problems of the upper eyelids. Then a thin crescent of excess skin is removed. The incisions are closed with very fine sutures. To remove the fatty deposits beneath the eyes, the incisions are placed just under the eyelash. The procedure can take between one to two hours, depending on the extent of the surgery.
Call us today!
Our staff is happy to help you!
The Recovery Process after Blepharoplasty
The eye area will be bruised and swollen for about two weeks following surgery. Patients can expect for the sutures in their eyelids to be removed four to five days after the procedure. They will likely be socially presentable within 8 to 10 days. The eyes are usually never swollen shut and discomfort is typically mild. Keeping your head elevated while sleeping will help reduce swelling. The areas around the eyes are very forgiving and no cover makeup is needed to conceal the scars after the normal healing process has passed.
After the procedure, patients should rest and refrain from any strenuous activities, cardio exercises, or contact sports. Dr. Ewings will inform patients when it's safe to return to specific activities.
Above: 55 y/o female with complaint of excessive skin of the upper lids. Underwent bilateral upper lid blepharoplasty in office. Post-operative photos after 4 months.
Why Choose Dr. Ember Ewings
For over a decade, Dr. Ember Ewings has taken pride in delivering excellence in plastic surgical care. She earned her medical degree from the University of Wisconsin-Madison School of Medicine and completed her surgical residency training in plastic surgery at Saint Louis University. Additionally, she gained extensive experience in pediatric and craniofacial surgery during her fellowship at the University of Tennessee – Memphis, and Hôpital Necker-Enfants Malades in Paris, France. Dr. Ewings is also Board Certified by the American Board of Plastic Surgery.
Dr. Ewings has enjoyed caring for patients of all ages from across the upper Midwest, and performs both cosmetic surgical, non-surgical, and reconstructive procedures, and is delighted to be able to provide outreach services in Durand, Wisconsin.
She owns and operates the Plastic Surgery Clinic of Eau Claire in Eau Claire. Prospective patients can reach Dr. Ewings through her online Consult Form, or at her practice, Plastic Surgery Clinic of Eau Claire – 715.833.2116 or 800.456.8222.
Frequently Asked Questions about Eyelid Surgery
Is eyelid surgery ever considered a medical necessity?
If your eyelids lead to functional problems, blepharoplasty is considered a medical necessity. In the event your upper eyelid droops so far that it blocks your field of vision, your procedure is likely a medical necessity.
Is eyelid surgery covered by insurance?
Eyelid problems are common, even in younger people. Correcting eyelid problems that interfere with your vision may be covered by your insurance. When eyelid surgery is performed for cosmetic reasons, however, it will probably not be covered in part or in whole by your health insurance. Patients are responsible for understanding their coverage and obligations.
What is an Asian blepharoplasty?
An eyelid surgery that creates a crease in the eyelid is referred to as Asian blepharoplasty. If you are Asian and have a single eyelid with no crease but prefer a double eyelid with a crease, this procedure is ideal for you. This is considered one of the most requested procedures among Asian patients.
Are there any risks or complications associated with eyelid surgery?
Since a blepharoplasty is a surgical procedure, there are risks and complications that may arise. These include dry eyes, infection, asymmetry in healing or scarring, bruising and swelling, whiteheads, and temporary or blurred vision. Fortunately, when the procedure is performed by a highly skilled board-certified surgeon like Dr. Ewings, risks and complications are rare.
Does the procedure lead to vision changes?
While you may experience temporary changes in vision for a short time after your procedure, there should not be any permanent changes. Within three weeks after your surgery, you should have clear and crisp vision.
Is it effective at removing wrinkles?
The main goal of blepharoplasty is to remove puffiness and sagging skin. While this procedure may improve the appearance of wrinkles in the lower lids, it will not completely remove the wrinkles at the corners of the eyes known as crow's feet. These wrinkles may be treated with Botox injections. If you are concerned about wrinkles, a brow lift may also be a good option.
Can I wear makeup after?
You will be permitted to wear eyeshadow, eyeliner, mascara, and any other eye makeup you desire after your procedure. However, we recommend waiting two to three weeks after the procedure prior to applying makeup so that your incisions heal properly.
What is the post-op scarring like?
The thickness of your skin will determine the amount of scarring caused by this procedure. Scars are more noticeable on thicker skin. The good news is that eyelid skin is the thinnest skin on the body so scars from this procedure are usually very fine and barely noticeable.

We usually hide the upper eyelid scar in the upper eyelid crease and the majority of the lower lid scar transforms into a very fine line right below the lash line. The most obvious scar from eyelid surgery is typically from the lower lid incision, which extends out into the crow's feet, where the skin is a bit thicker. Fortunately, this scar fades over time.
Will LASIK affect my procedure?
If you have had LASIK performed so that you no longer have to wear prescription glasses or contacts, you should know that it will not affect the results of your surgery. However, it may delay your recovery a bit.

Some patients who have undergone LASIK and opt for eyelid surgery may develop dry eye syndrome, which occurs when there is less moisture covering the eye's surface. Please let us know if you've had LASIK so that we can recommend moisturizing eye drops or ointments to aid in your recovery.
What blepharoplasty office is near me?
If you live near Eau Claire, WI, Plastic Surgery Clinic of Eau Claire offers blepharoplasty among its services, and is conveniently located at 3221 Stein Blvd #2 Eau Claire, WI 54701
Why Choose Plastic Surgery Clinic of Eau Claire
Dr. Ewings is a board-certified surgeon with years of experience performing successful plastic surgery of the eyes and eyelids. She is committed to providing each and every patient with the compassionate, individualized care they deserve.
Plastic Surgery Clinic of Eau Claire understands how frustrating it can be to look in the mirror and see droopy eyes when you feel well-rested. By trusting us with your eyelid surgery, you can enjoy a more youthful appearance that allows you to look more refreshed and feel confident in your own skin.
Schedule a Consultation at Plastic Surgery Clinic of Eau Claire
If you're tired of looking tired and ready for a positive change in your eyes and face, we encourage you to schedule a blepharoplasty consultation with Dr. Ewings at our state-of-the-art facility in Eau Claire, WI. Call us at 800-456-8222 or fill out our online contact form. We look forward to helping you achieve your aesthetic goals.
Dr. Ewings customizes each breast lift to match her patient's unique aesthetic goals for beautifully-shaped, perky breasts and lifted nipples.
Dr. Ewings can fill in indentations, subtly improve the shape of the nose, and even enhance facial balance by making small adjustments to the nose.
Skin Cancer Treatment
Skin cancer is the most common form of cancer in the United States. More than 600,000 new cases are reported each year.