At the Plastic Surgery Clinic of Eau Claire, Wisconsin-based surgeon Dr. Ember Ewings offers BOTOX (botulinum toxin) as a muscle-freezing solution to slow down signs of aging. These aging signs often manifest as fine lines between the eyes, forehead, cheeks, and lips. They develop over time due to facial expressions and are noticeable even when neutral. BOTOX injections are an ideal solution for forehead lines and wrinkles caused by aging, namely furrow lines.
BOTOX® and DYSPORT®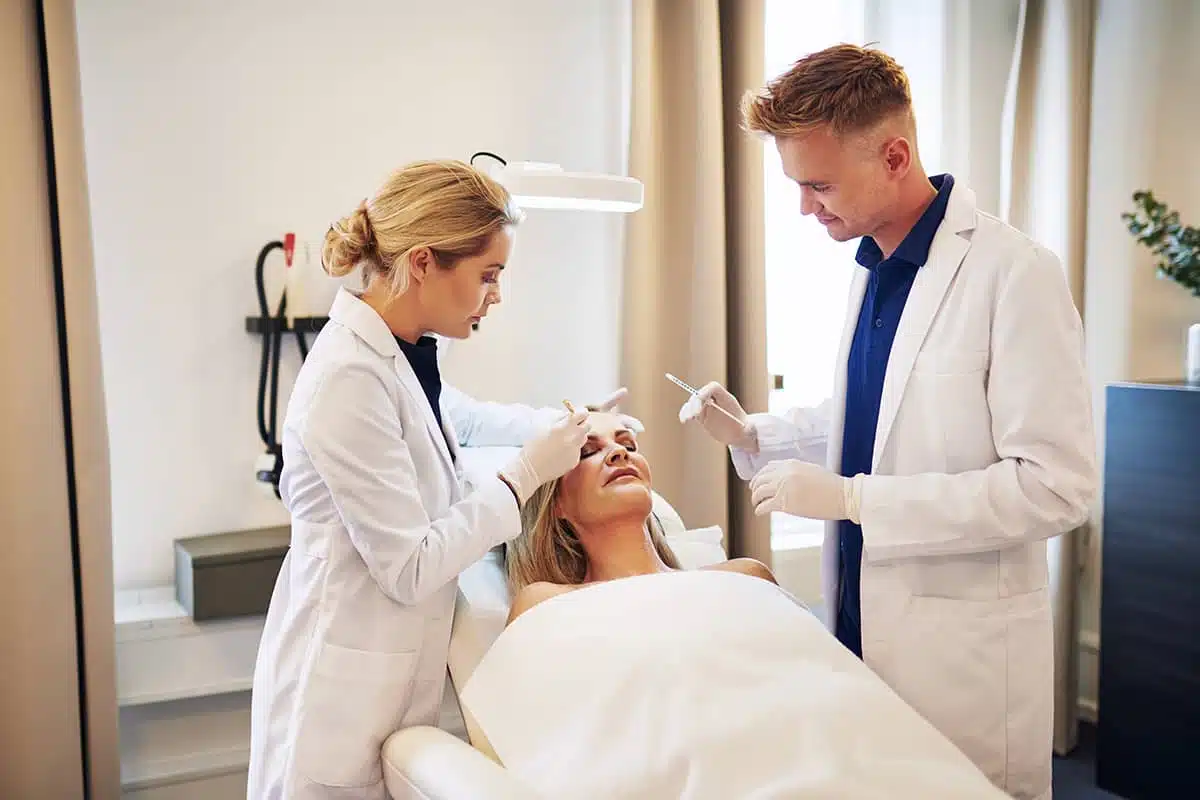 BOTOX Cosmetic and DYSPORT are injectable cosmetic treatments that we use to treat dynamic facial wrinkling, from marionette lines or nasolabial folds to vertical lines. Different from dermal fillers like hyaluronic acid, it is a toxin extracted from the bacterium Clostridium botulinum and is a safe and effective way to reduce facial lines without surgery or any other skin care product for a more youthful appearance. Fine needle injections target the facial muscle activity that contracts to cause dynamic wrinkles like smile lines but also other issues such as TMJ by targeting the masseter muscle (jaw muscles) and even a gummy smile.
These muscles stop contracting when treated, consequently reducing the wrinkles of the skin above the muscle by preventing facial movement in the targeted area. After that, the effect may last 3-6 months, at which time the muscle from the injection site regains movement, and wrinkles will reappear. We administer BOTOX and DYSPORT Cosmetic at the Plastic Surgery Clinic of Eau Claire and is a 5-minute aesthetic procedure with no recovery time.
Benefits of botox injections
Botox works by preventing nerve cells from delivering communications. Injections are often utilized to decrease signs of maturing on the face. Botox may be employed for more than only undesirable wrinkles and crow's feet. Botox can be used as a therapy for extreme perspiration in normal regions such as the hands or underarms. It may alternatively aid with migraines, headaches, muscle spasms, and many more issues.
Ideal Candidates for Botox
Botox is an effective treatment to reduce visible signs of aging, like wrinkles and fine lines. However, not everyone is a suitable candidate for this cosmetic procedure. The ideal individuals are healthy adults in good mental and physical health who want to improve the appearance of facial wrinkles caused by repeated facial expressions, such as crow's feet, forehead lines, and frown lines. Therefore, it is important that you discuss your general health history with a qualified physician before proceeding with Botox treatments to ensure it is right for you.
Most Common Botox Treatment Areas
Botox is an injectable that people may receive in order to reduce wrinkles around the forehead, between the eyebrows, and around the eyes, helping to minimize the signs of aging.
This treatment restricts muscle movement, resulting in a more polished effect. Using a small amount of botox, you can reduce lines on the lips and lift the corners of your mouth, as well as treat the neck and mouth area.
The most common treatment areas are: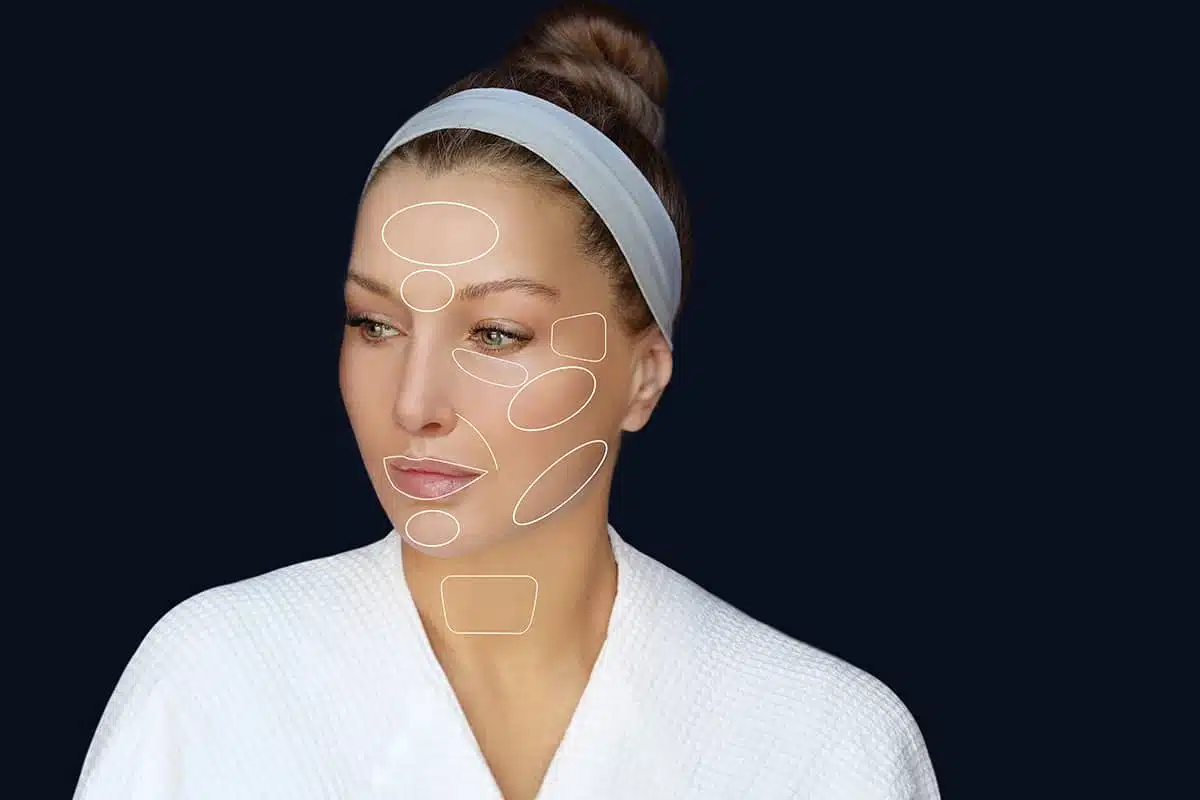 Crow's feet
Forehead (Brow lines)
Frown lines
Neck wrinkles
Bunny lines
Chin wrinkles
Lip lines
Gummy Smile
Jawline wrinkles
Botox Injection Treatment for Excessive Sweating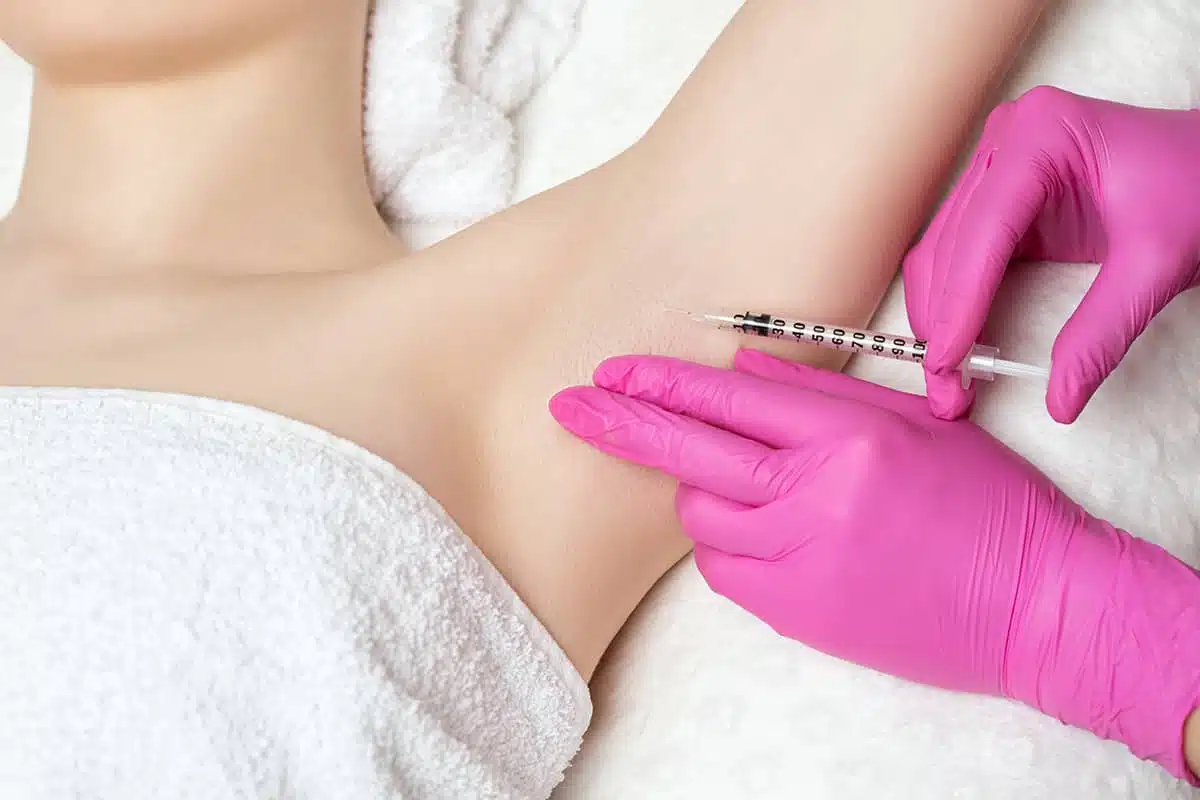 Description of Hyperhidrosis
Thousands of people in America suffer from excessive sweating. Although sweating is a necessary and normal body function that helps to maintain a consistent body temperature, persons with hyperhidrosis sweat excessively 24/7 with no relevance to maintaining their normal body temperature range or in response to emotional stress or excessive physical activity. The condition appears due to the overactivity of the sweat glands, which commonly affect the underarms, hands, feet, and face.
Hyperhidrosis Progression
In persons with this condition, excessive underarm sweating usually starts in their late teens, while palm and sole foot sweating often begins around ages 13 to 15. This condition can generally stain clothing, reduce self-esteem and, with advancing age, place a strain on social and business interactions.
Hyperhidrosis Treatment
Some individuals can control sweating or make it more bearable with over-the-counter antiperspirants, but in many individuals with the more advanced form of this condition, this treatment option may not meet their expectations. Other common treatment options are:
Prescription-strength Antiperspirants containing Aluminum Chloride
Anticholinergic Medications: Benadryl
Broad Band Light Lasers: Sciton 1064
Botox, Dysport
In our experience of approximately 200 cases, we have found that the use of Botox or Dysport to treat axillary hyperhidrosis has evidently caused a significant reduction in the condition. In most instances, the results have lasted for 8 to 12 months.
Because of these results, we will be extending our hyperhidrosis botox treatment plan to the treatment of the hands and feet.
Call us today!
Our staff is happy to help you!
Botox Post-Care
For optimal results with any cosmetic concerns, it's essential to combine Botox treatments with a consistent daily skincare routine. Keeping your skin healthy and youthful on a daily basis is what helps maintain and extend the effects of Botox for a long time.

Botox and Dermal Fillers
Injections of botox and dermal fillers exist to help smooth out the crow's feet, frown lines, and the appearance of wrinkles that occur during aging by limiting facial muscle contractions. In the same way, we use FDA-approved Dermal fillers used to raise a depressed scar, enhance lips, and replace soft tissue loss. Results are accomplished by injection of the filler beneath the scar or introducing the appropriate volume to smooth the wrinkle.
Call us at 800.456.8222 or email us for more information on BOTOX injections at our west-central Wisconsin office. Schedule your initial consultation today! Our staff is happy to help you!!
*Individual results may vary. Plastic Surgery Clinic of Eau Claire DisclaimerRead more.
Why Choose Dr. Ember Ewings
For over a decade, Dr. Ember Ewings has taken pride in delivering excellence in plastic surgical care. She earned her medical degree from the University of Wisconsin-Madison School of Medicine and completed her surgical residency training in plastic surgery at Saint Louis University. Additionally, she gained extensive experience in pediatric and craniofacial surgery during her fellowship at the University of Tennessee – Memphis, and Hôpital Necker-Enfants Malades in Paris, France. Dr. Ewings is also Board Certified by the American Board of Plastic Surgery.
Dr. Ewings has enjoyed caring for patients of all ages from across the upper Midwest, and performs both cosmetic surgical, non-surgical, and reconstructive procedures, and is delighted to be able to provide outreach services in Durand, Wisconsin.
She owns and operates the Plastic Surgery Clinic of Eau Claire in Eau Claire. Prospective patients can reach Dr. Ewings through her online Consult Form, or at her practice, Plastic Surgery Clinic of Eau Claire – 715.833.2116 or 800.456.8222.
Frequently Asked Questions About Botox
Are there potential side effects?
Generally, the side effects associated with Botox are mild and temporary, such as redness or swelling at the injection site. In rare cases, more serious side effects may occur, such as difficulty breathing or swallowing muscle weakness, and vision changes. It is important to discuss any potential risks with your doctor prior to receiving a Botox injection.
Is Botox safe?
Yes, when administered by a qualified medical professional, Botox is a safe and effective treatment for wrinkles and other facial concerns. The FDA has approved it for cosmetic use since 2002.
What is the duration of Botox treatments?
Botox injections are a short 5-minute office procedure that does not require you to take time off and allows you to go back to your normal activities right away. In just about three days, effects can be spotted, with complete benefits seen in two weeks. Botox results remain working for 4-5 months. Your doctor may recommend dermal fillers to achieve the best results.
What Botox office is near me?
If you live near Eau Claire, WI, Plastic Surgery Clinic of Eau Claire offers Botox among its services, and is conveniently located at 3221 Stein Blvd #2 Eau Claire, WI 54701
Dr. Ewings customizes each breast lift to match her patient's unique aesthetic goals for beautifully-shaped, perky breasts and lifted nipples.
Dr. Ewings can fill in indentations, subtly improve the shape of the nose, and even enhance facial balance by making small adjustments to the nose.
Skin Cancer Treatment
Skin cancer is the most common form of cancer in the United States. More than 600,000 new cases are reported each year.