When medical laser technology was developed approximately 25 years ago, plastic surgeons began to use this tool to achieve better results in skin rejuvenation. The overall goal was to create a way to reduce skin wrinkling by carefully removing the external wrinkled skin layer and allowing the body to naturally heal itself by producing a smooth new layer of skin. The laser targets the natural water located in the skin and it heats it to a level that causes a controlled destruction of the external skin layers.
The technology has become refined to the point of being able to carefully control the depth of the skin that is treated and the amount of energy that is delivered by the laser to the skin layer. Here at Plastic Surgery Clinic of Eau Claire, WI, we believe the current state-of-the-art device for laser skin resurfacing is the Erbium Laser because it is less painful, causes less inflammation and results in a faster healing time.
Laser Skin Resurfacing: The Erbium Laser
It is important to understand that not all lasers work in exactly the same way. The Erbium laser that we use in our office is effective in smoothing mild to moderate wrinkles that are a result of sun damage, rather than facial expressions.
Acne scars, scars caused by surgery or trauma, age spots, and certain skin lesions may also be treated with an Erbium laser. While most patients enjoy the benefits of the Erbium laser for their face, it can also be used to improve the appearance of the neck, chest, arms, and hands.
Since the Erbium laser removes only a small amount of skin at a time, the doctor has more precise control over the results. Compared the C02 laser, the Erbium laser leads to less pain and a much shorter recovery time. It is not as harsh as older lasers and only creates a sunburned sensation that can clear up in a few short weeks.
Benefits of Laser Skin Resurfacing
When skin resurfacing is performed using the Erbium laser, a patient can expect smoother skin, fewer wrinkles, and improvement in the overall color and texture of the treated area, which can include the face, neck, and hands. The Erbium laser can effectively treat a variety of conditions such as fine wrinkles, acne scarring, sun and age spots, sun damage, and color irregularities.
Laser skin resurfacing allows patients to enjoy a younger, more even and flawless appearance. Those who would like a more dramatic change may want to opt for other facial rejuvenation procedures like an eyelid surgery or a facelift.
Laser Skin Resurfacing Before and After Photos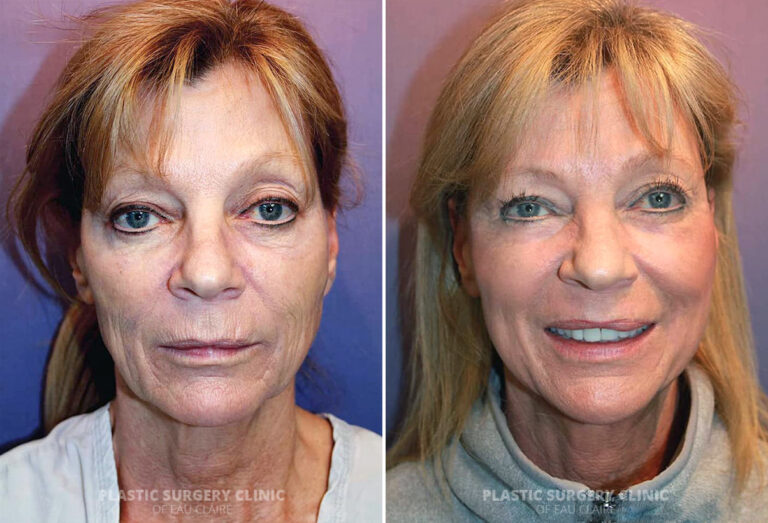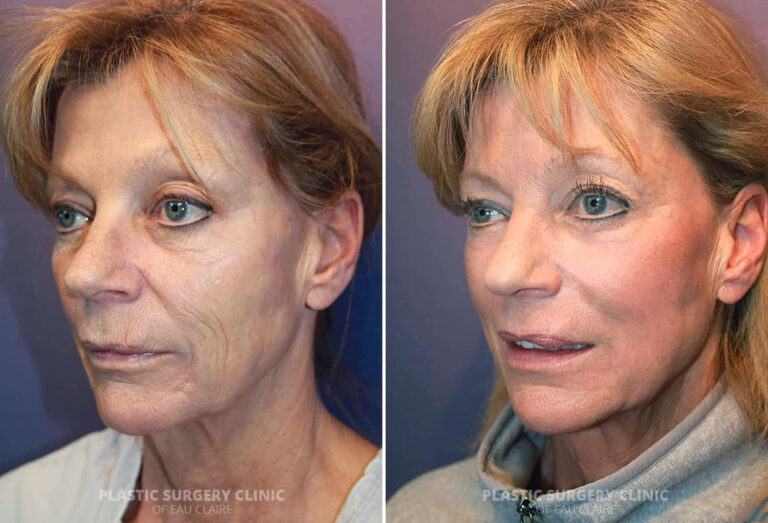 * Each patient is unique and individual results may vary.
Good Candidates for Laser Skin Resurfacing
Ideal candidates for this procedure often have a long history of excess sun exposure. This and the natural aging process can lead to excessive premature wrinkling of the skin and discoloration. The most commonly affected areas include the skin around the mouth, eyes, and forehead. Laser resurfacing can also be very beneficial for individuals that have significant acne scarring. Individual candidacy is determined during a consultation with Dr. Ewings.
The Laser Skin Resurfacing Initial Consultation
During the in-person consultation, a detailed examination of the skin is performed to determine the extent of wrinkling or scarring, the skin type of the patient, and the amount of improvement that can be realistically attained with laser skin resurfacing.
Once Dr. Ewings has determined candidacy, an individualized plan will be created to help the patient reach her or her goals. Patients are encouraged to express their skin concerns and ask any questions they may have about the procedure itself or the recovery process.
Preparing for Laser Skin Resurfacing
Dr. Ewings will advise all patients who have scheduled this procedure to avoid tanning or heavy sun exposure and any deep facial peel procedures such as dermabrasion and chemical peels four weeks before the treatment.
Patients should also use sunscreen diligently and refrain from taking certain medications that can lead to photosensitivity, like minocycline, for at least 72 hours prior to the procedure. Patients with a history of herpes or shingles in the treatment area will be required to take an antiviral medication two days before and three days after treatment.
Call us today!
Our staff is happy to help you!
The Laser Skin Resurfacing Procedure
In the over 3,000 cases that Dr. Ewings has performed, most patients have been given a mild sedation and a local anesthetic that is used to numb the areas to be treated. The procedure takes approximately 1 hour and particular attention is paid to problematic areas such as the skin around the mouth or eyes.
During the procedure, Dr. Ewings will pass the light over your skin so that a small fraction of the tissue is affected at a time. This control allows him to treat the skin as deeply as necessary. Once the treatment has been completed, the new skin will quickly re-grow in place of the damaged skin. Most patients who undergo this procedure only experience mild discomfort.
In some cases, laser skin resurfacing is repeated several times, spaced four to six weeks apart.
Recovering From Laser Skin Resurfacing
Our fully trained staff provides the necessary support and guidance for a full and rapid recovery. After the procedure, it's common for patients to experience some redness, burning, stinging, and skin peeling.
Fortunately, these symptoms begin to subside within five days. Dr. Ewings recommends that after this procedure, patients take care to protect their skin from the sun. Most patients are socially presentable within 10 to 12 days after the procedure. The pain level will be between a 2 and 3 on a scale of 1 to 10.
The vast majority of our patients have been more than happy with their appearance after laser skin resurfacing. Potential complications are rare. The most common problems would be facial scarring and a prolonged redness of the skin after treatment. Dr. Ewings's experience helps to minimize risks and complications significantly.
Why Choose Dr. Ember Ewings
For over a decade, Dr. Ember Ewings has taken pride in delivering excellence in plastic surgical care. She earned her medical degree from the University of Wisconsin-Madison School of Medicine and completed her surgical residency training in plastic surgery at Saint Louis University. Additionally, she gained extensive experience in pediatric and craniofacial surgery during her fellowship at the University of Tennessee – Memphis, and Hôpital Necker-Enfants Malades in Paris, France. Dr. Ewings is also Board Certified by the American Board of Plastic Surgery.
Dr. Ewings has enjoyed caring for patients of all ages from across the upper Midwest, and performs both cosmetic surgical, non-surgical, and reconstructive procedures, and is delighted to be able to provide outreach services in Durand, Wisconsin.
She owns and operates the Plastic Surgery Clinic of Eau Claire in Eau Claire. Prospective patients can reach Dr. Ewings through her online Consult Form, or at her practice, Plastic Surgery Clinic of Eau Claire – 715.833.2116 or 800.456.8222.
Frequently Asked Questions About Laser Skin Resurfacing
Does laser skin resurfacing harm the skin?
While laser skin resurfacing will wear away the skin surface, the risk of scarring is minimal, especially when a patient adheres to our post-procedure care instructions. When laser skin resurfacing is performed by a skilled surgeon like Dr. Ewings, patients can enjoy long-lasting healthy skin and effectively combat skin damage and the signs of aging.
How long do the results of laser skin resurfacing last?
Although the results of laser skin resurfacing are usually long-lasting, the natural effects of aging, environmental factors, and personal habits can all affect the skin later in life. As signs of aging become more prominent over time, patients may want to consider maintenance treatments.
What makes the Erbium laser different than other lasers?
The Erbium laser bypasses the surface of the skin and treats the layers under. This allows it to leave the skin's surface and its surrounding tissues intact. Since the Erbium laser is not as aggressive as the CO2 laser, it is designed for patients with mild to minor surface-level skin damage.

Those who have deep wrinkles and scars should consider the CO2 laser instead. Dr. Ewings can help each patient determine the best option for their particular goals.
When will sun exposure be allowed after the procedure?
After laser skin resurfacing, patients will be prone to sun damage. Therefore, they should avoid going out into the sun until Dr. Ewings clears them. Patients should protect their skin with a broad spectrum sunscreen with an SPF of 30 or higher. Patients should understand that direct and excessive sun exposure can compromise the results of laser skin resurfacing.
What are the risks of laser skin resurfacing?
Just like every other procedure, laser skin resurfacing does involve some risks. Some of the most common risks and complications include dark skin spots, pale skin spots, allergic reactions to anesthesia, abnormal scarring, and laser burns.
What laser skin resurfacing office is near me?
If you live near Eau Claire, WI, Plastic Surgery Clinic of Eau Claire offers laser skin resurfacing among its services, and is conveniently located at 3221 Stein Blvd #2 Eau Claire, WI 54701
Why Choose Plastic Surgery Clinic of Eau Claire
At Plastic Surgery Clinic of Eau Claire, laser skin resurfacing is performed by Dr. Ewings, a board-certified surgeon with years of experience. She is committed to providing each patient with individualized attention and designing a treatment plan that can help them achieve the beautiful, healthy skin they deserve.
Countless patients in the Eau Claire area have stated that laser skin resurfacing at Plastic Surgery Clinic of Eau Claire has exceeded their expectations and allowed them to feel more confident in their own skin.
Schedule a Laser Skin Resurfacing Consultation Today
Plastic Surgery Clinic of Eau Claire, WI is pleased to offer laser skin resurfacing to men and women who would like to reduce the effects of aging, sun exposure, and other flaws in their skin. If you are interested in learning more about laser skin resurfacing or would like to find out if you are a good candidate for this procedure, we encourage you to schedule a consultation today. Call us at 800.456.8222 or fill out our online contact form.
Dr. Ewings customizes each breast lift to match her patient's unique aesthetic goals for beautifully-shaped, perky breasts and lifted nipples.
Dr. Ewings can fill in indentations, subtly improve the shape of the nose, and even enhance facial balance by making small adjustments to the nose.
Skin Cancer Treatment
Skin cancer is the most common form of cancer in the United States. More than 600,000 new cases are reported each year.