The Halo™ laser by Sciton provides patients with an original laser treatment device featuring dually-emitting wavelengths. Together, the targeted light beams address irregularities in both the superficial and deeper layers of skin during a single treatment. These two light sources deliver ablative and non-ablative results that will provide a complete treatment of facial skin. Other lasers target a single layer of skin during an aesthetic skin care session, and patients would require multiple sessions to achieve the outcome that Halo™ produces in just one visit. Dr. Ember Ewings at Plastic Surgery Clinic of Eau Claire, Wisconsin is now accepting new patients to undergo the Halo™ by Sciton laser treatment.
Understanding Halo™ Hybrid Fractional Laser
What is the Function of a Cosmetic Laser?
As lasers evolved, the medical field adopted their use to perform procedures that created less tissue damage and offered improved results. In the cosmetic field, lasers serve to regenerate tissues of the skin by creating micro injuries to amplify the healing properties of the body. Through this equipment, a practitioner can direct short bursts of concentrated light beams to areas of problem skin for improved aesthetics.
Ablative and Non-Ablative Lasers
The two types of lasers used in cosmetic medicine are ablative lasers and non-ablative lasers, which act upon the skin differently to target specific issues. Ablative lasers, which include CO2 or carbon dioxide lasers and erbium lasers, vaporize the outermost layers of skin, causing regenerative growth and increased collagen production. Ablative laser treatments offer the correction of more serious skin concerns, like advanced signs of aging, skin lesions, and acne scars.
The ablative laser's less invasive counterpart is the non-ablative laser. The different types are PDL or pulsed-dye lasers, ND: YAG lasers (an abbreviated name for the crystal used in the equipment), and alexandrite lasers. While ablative lasers create a controlled destruction of skin cells, non-ablative lasers use targeted heating that raises the temperature of the cells without destroying them. This prompts the body to produce collagen in these areas to improve the look of fine lines and wrinkles and other aesthetic concerns. During a sitting for the Halo™ laser, the device essentially punches microscopic depressions into the skin and then heats the depressions to amp up collagen production. While other lasers typically do not affect pore size or appearance, the Halo™ has been shown to reduce pore size after just one visit.
The Benefits of Combined Ablative and Non-Ablative Wavelengths
The Halo™ laser boasts the transformative results of an ablative laser treatment, but with the mild aftereffects that non-ablative laser sessions produce. Procedures that create similar results may cause bleeding and serious shedding of the skin, with redness and irritation. Often, patients would have to cover the treatment site with a petrolatum-based product for a week or so. With the Halo™ laser, there is as little as no downtime, with a maximum of 1-2 days required for recovery, and very mild side effects. During a treatment, the practitioner can alter both wavelengths to produce changes that would not otherwise be possible through a single laser session. This is cost effective as the Halo™ laser combines two different treatments into one appointment and offers the maximum benefit for various layers of skin.
While some laser treatments are not ideal for every skin type and color, the Halo™ laser successfully treats all skin types of varying colors and conditions. This is possible through the adjustable wavelengths. Most people make great candidates for this type of correction.
What is Fractional Laser Treatment?
A fractionated laser treats the skin in a specific way that is clinically proven to achieve great cosmetic results. The powerful light damages layers of skin in a vertical fashion, targeting a column of skin at a time. This type of technology can impact both the epidermis and dermis, creating changes from deep within the skin.
The Halo™ Laser Procedure
After patients arrive for their appointment, the practitioner may request special photographs of the face to be captured. This allows the staff and Dr. Ewings to visualize the skin damage in depth to offer the most effective treatment solution through the adjustment of the laser. Patients will then be directed to a private room where they can prepare their face to receive the treatment. This may include removing any topical products and washing the area to be treated. The practitioner typically requests that patients arrive with no product (cosmetics, moisturizers, SPF, topical medications, fragrance) on or around the areas of skin to be treated. The patient and practitioner may go over some final details and will then be ready to begin the procedure.
The targeted treatment areas may be prepped with a thorough cleansing and the application of a cooling or numbing cream. The topical anesthetic remains on the skin for about 30-60 minutes to ensure efficacy. In some cases, the area may be marked prior to the session, especially if different areas of the face require varied laser settings. Before the Halo™ laser is powered on, the patient and practitioner have to don special protective eyewear as some of the emitted light rays can be harmful to the eyes. Next, the dials on the laser are adjusted to accommodate the patient's specific concerns. The practitioner passes the handheld laser over the patient's skin. Even if select areas of the face show signs of aging, scarring, or other visible issues, typically the entire face is treated to provide a full renewal to all of the skin, resulting in uniformly beautiful skin.
Generally, it will take about 20 to 30 minutes for a full face treatment. The skin may feel sunburned, and specific post-treatment instructions from the practitioner can provide comfort. The skin will appear pink and dry for the next few days, but makeup can be safely applied 24 hours following the treatment. Healing is typically completed within 4-5 days. It is recommended that this procedure be performed three times, depending on a patient's needs. After a single procedure, patients will see results that were once only possible through 6 months of continuous treatments with other lasers. Because the basis for this technology is cell renewal, it can take a while for the full results to be visible. Patients can undergo three Halo™ laser sessions for optimal impact, and it is recommended that they schedule at least one annual session to maintain their results.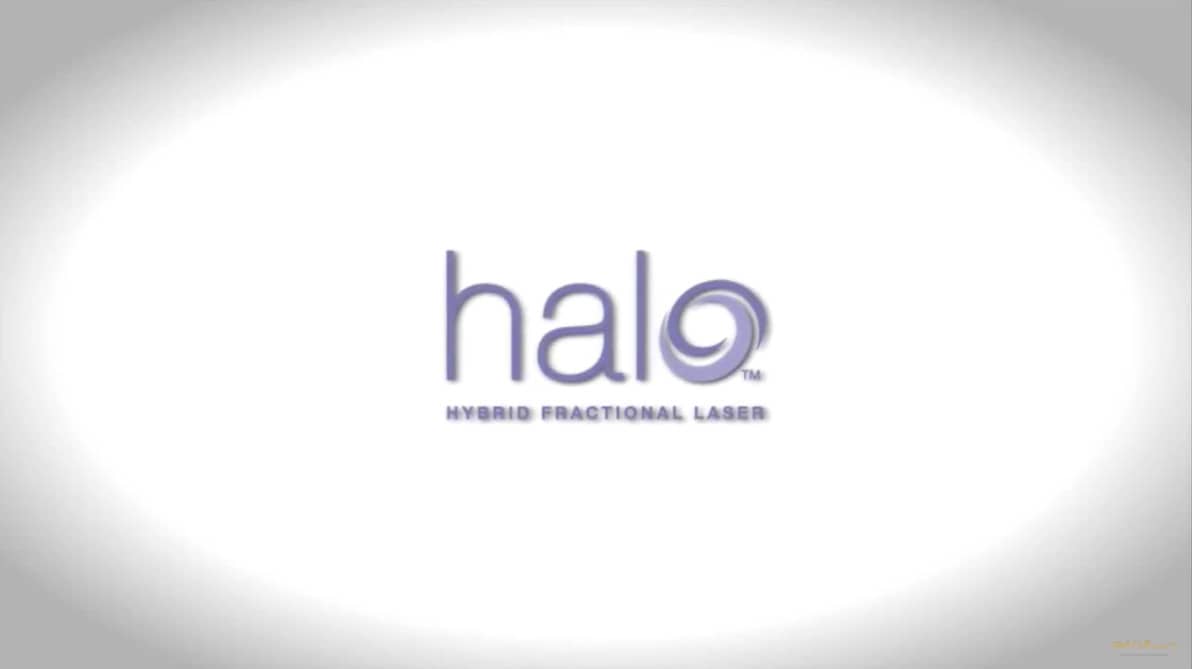 What to Expect After a Halo™ Laser Session
The skin may display redness, swelling, pinpoint bleeding, or other effects following a Halo™ treatment. A patient's face may also feel warm to the touch. These symptoms are completely normal and should dissipate within a few days. The patient may notice peeling and "bronzing" of the skin, but discoloration will fade. It is recommended that patients use a petroleum jelly or other similar product topically to create a moisture barrier of the skin and prevent hydration from leaving the area during the post-procedural days. While patients are generally free to return to work immediately, it will be approximately four days until they are cleared to perform more strenuous activities, like exercise.
Candidates for Laser Therapy with Halo™ by Sciton
The dually-emitting wavelengths in the Halo™ laser offer a highly customizable experience that can be safely performed on a wide range of skin tones. Dark-skinned individuals who once faced the risk of skin damage through this type of treatment can now safely undergo a laser session. Another benefit of this technology is that various skin conditions can be treated at one time. Dr. Ewings recommends that prospective patients visit her Eau Claire clinic if they are interested in any of the following:
Prevent the signs of aging
Correct existing sun damage, such as lightening brown spots
Smooth the skin tone and texture and reduce pore size
Correct uneven skin tone and poor skin texture
Call us today!
Our staff is happy to help you!
The Halo™ Consultation
Interested candidates for this type of laser skin refinishing can schedule a visit with Dr. Ewings or the Enza Medispa team at her Eau Claire, Wisconsin practice. During this initial meeting, the patient has the opportunity to share aesthetic concerns with the practitioner. The practitioner will study the patient's medical history, examine their skin, and will take into consideration their special requests for their care.
Why Choose Dr. Ember Ewings
For over a decade, Dr. Ember Ewings has taken pride in delivering excellence in plastic surgical care. She earned her medical degree from the University of Wisconsin-Madison School of Medicine and completed her surgical residency training in plastic surgery at Saint Louis University. Additionally, she gained extensive experience in pediatric and craniofacial surgery during her fellowship at the University of Tennessee – Memphis, and Hôpital Necker-Enfants Malades in Paris, France. Dr. Ewings is also Board Certified by the American Board of Plastic Surgery.
Dr. Ewings has enjoyed caring for patients of all ages from across the upper Midwest, and performs both cosmetic surgical, non-surgical, and reconstructive procedures, and is delighted to be able to provide outreach services in Durand, Wisconsin.
She owns and operates the Plastic Surgery Clinic of Eau Claire in Eau Claire. Prospective patients can reach Dr. Ewings through her online Consult Form, or at her practice, Plastic Surgery Clinic of Eau Claire – 715.833.2116 or 800.456.8222.
Frequently Asked Questions about the Halo™ Laser
Where is a Halo™ laser session performed?
Patients will arrive at Plastic Surgery Clinic of Eau Claire or Enza Medispa, both in Eau Claire, Wisconsin to undergo the Halo™ laser treatment. The practitioner and staff can provide more specific instructions for patients during their consultation.
What results can I expect?
Halo™ is a complete skin rejuvenation treatment. You will see improvements in overall tone and texture in addition to significant removal of discoloration, reduction in fine lines*, reduced pore size, skin reflectivity and glow.*Results will vary.
Who performs the Halo™ laser treatment?
Board-certified plastic surgeon Dr. Ember Ewings of Plastic Surgery Clinic of Eau Claire or our licensed aesthetician at Enza Medispa will perform the treatment. Both are certified practitioners in this type of skin care technology.
How many treatments do you need?
What's great about Halo™ is that you can choose how many treatments you want! Discuss your needs with your clinician and you can choose to have more or less aggressive treatments to achieve your skin's goal over a period of time.
What happens during the treatment?
30-60 minutes before the treatment your clinician may place a topical anesthetic on your skin to reduce the sensation during the procedure. The clinician will treat each measured section by uniformly rolling the Halo™ handpiece over the skin until the system recognizes the treatment is complete.
What does Halo™ feel like?
With a topical anesthetic and integrated cooling technology, most patients experience very little discomfort. Most patients describe the treatment as a feeling of heat with occasional prickling sensations, but are generally comfortable. After the treatment, most patients will continue to feel warm for an additional 15 to 30 minutes, or a bit longer with deeper treatment levels.
How soon after my treatment can I return to normal activities?
For the first 24 hours you should keep your skin protected according to your clinician's instructions, but after that you should be able to go about your normal activities. After the first 24 hours your skin will begin to peel, but you will be able to put on makeup. For a facial treatment, you will see very little change on the first day. After two to three days you will develop a light bronzing appearance. By day three or four your skin will peel, revealing your new skin beneath.
When will I see results?
You will see initial results between two and five days after your Halo™ treatment, but your skin will continue to improve over time. Most patients see the greatest pigmentary improvement in the first two to three weeks. This is followed by a dermal regeneration phase that continues to improve for months.
How long will my results last?
Halo™ results will last for years to come, but you should continue to keep your skin protected at all times using UVA/UVB sunscreen (like Enza Essentials™ Advanced Protection SPF 30) to protect your new, healthy skin. Each additional Halo™ treatment you get will only improve the results, giving you even better looking skin.
How does the Halo™ laser compare to other cosmetic laser devices?
The Halo™ by Sciton is unrivaled in its ability to treat multiple conditions of the skin during a single session, producing ablative results but with the minimal side effects and downtime of a non-ablative procedure. While most laser technology offers adjustable wavelengths for targeted patient treatment, the Halo™ is the first of its kind to emit two wavelengths simultaneously.
What halo laser treatment office is near me?
If you live near Eau Claire, WI, Plastic Surgery Clinic of Eau Claire offers halo laser treatment among its services, and is conveniently located at 3221 Stein Blvd #2 Eau Claire, WI 54701
Dr. Ember Ewings of Plastic Surgery Clinic of Eau Claire, WI
Dr. Ember Ewings completed her medical school training at Michigan State University and has been in private practice in west central Wisconsin in the Eau Claire area since 1984. She has performed over 10,000 reconstructive and cosmetic surgery procedures and sees patients in Eau Claire, WI. Dr. Ewings is board-certified by the American Board of Plastic Surgery and serves as the physician provider at Enza Medispa in Eau Claire.
Dr. Ewings customizes each breast lift to match her patient's unique aesthetic goals for beautifully-shaped, perky breasts and lifted nipples.
Dr. Ewings can fill in indentations, subtly improve the shape of the nose, and even enhance facial balance by making small adjustments to the nose.
Skin Cancer Treatment
Skin cancer is the most common form of cancer in the United States. More than 600,000 new cases are reported each year.