Most of us start life with even skin color and tone, however, as we are exposed to environmental pollutants and the sun, our skin changes. Suddenly, we take on the "aged" appearance. If your skin discoloration is brown in color (commonly called hyperpigmentation), your skin is signaling that damage has been done. Causes include the sun, acne, burns, trauma, hormonal changes, or social behaviors. Freckles are brown spots caused by an increase in sun exposure, while age spots are the result of extensive sun damage.
Freckles and age spots are usually on the surface of the skin – found on the hands, arms, back, chest, décolleté, and face. These brown spots are a buildup of pigment caused by years of sun exposure. They range in color from light to dark brown and can be flat or raised. How deep within the skin the damage goes depends on the color, size, and age of your discoloration.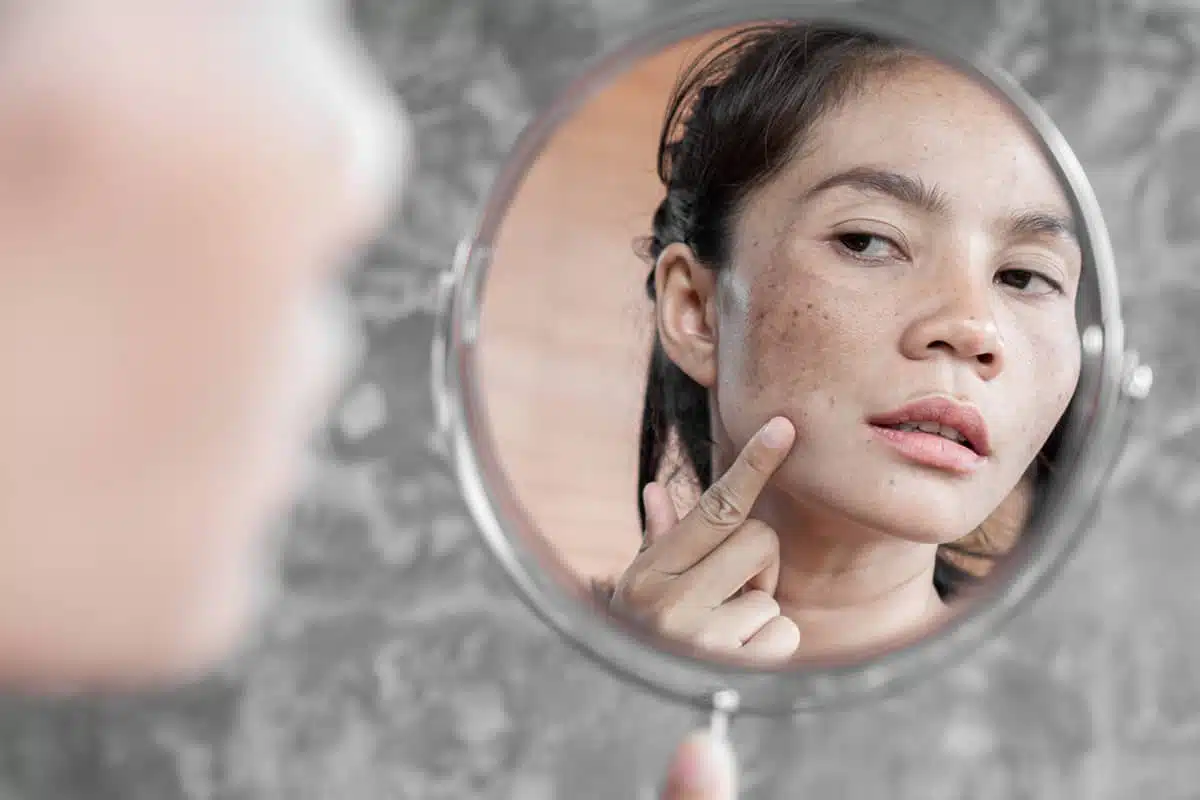 Effective Treatment options for sun damage and brown spots
Bleaching agents
Bleaching agents or skin-lightening creams or gels containing hydroquinone, kojic acid, azelaic acid, or Tri-Luma can help even out your skin tone. They work by decreasing the ability of cells to produce a pigment known as melanin. It may take 4 weeks to many months of daily use to see results.
Tri-Luma Results
Tri-Luma is a specially formulated cream that helps reduce the appearance of brown spots, sun damage, and other discoloration. It has been proven to help improve skin tone, texture, and clarity within 4 weeks with daily use. Results may vary depending on the severity of the discoloration and individual skin type. With regular use, Tri-Luma can help give you a more even-toned complexion.
Azelaic Acid Results
Azelaic acid is a naturally occurring dicarboxylic acid found in grains such as rye, barley, and wheat. It has a long history of use in dermatology for the treatment of various common skin conditions including acne, rosacea, and melasma. As an anti-inflammatory and antioxidant, azelaic acid helps reduce redness and inflammation associated with these skin issues. In addition to this, it can inhibit the production of melanin which is responsible for brown spots on the skin. Azelaic acid is effective in lightening and fading dark marks caused by sun exposure or other trauma to the skin. It also helps to even out patchy pigmentation on the face when used consistently over time.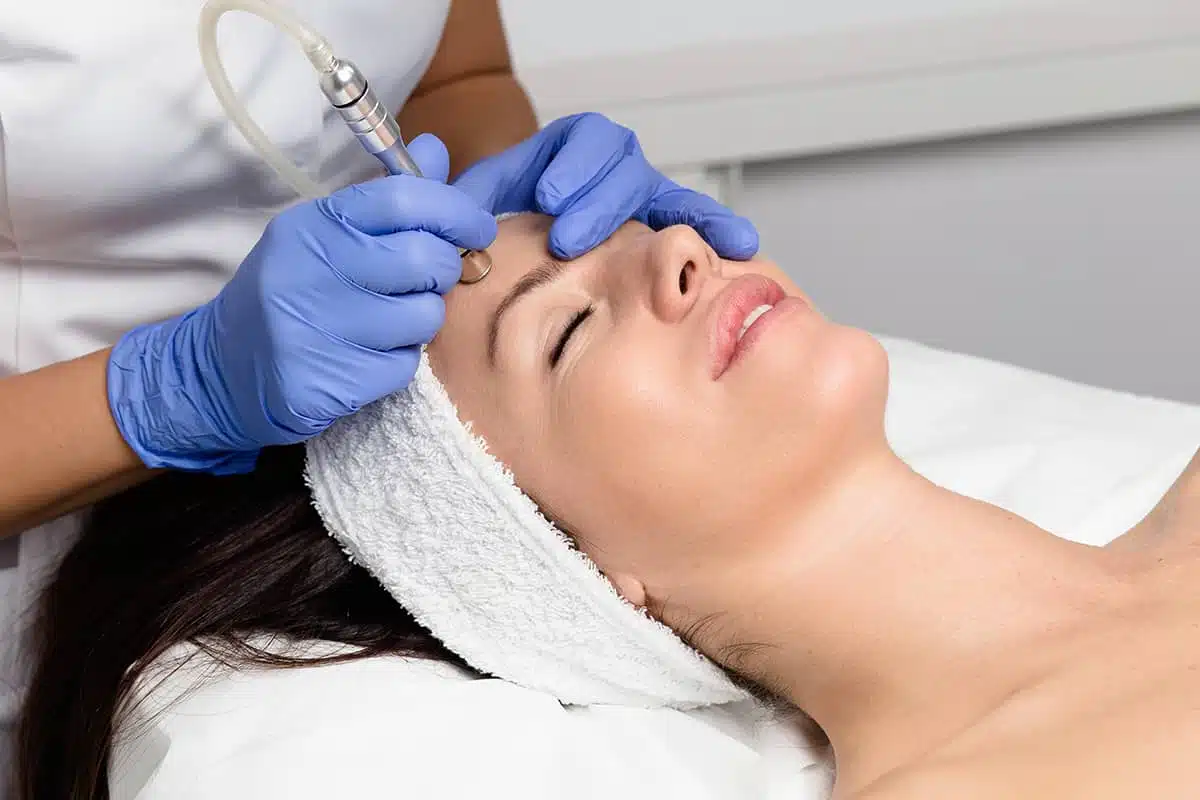 Microdermabrasion
Microdermabrasion combined with a Lite Chemical Peel during the same treatment, is an option for light sun spots and discoloration from acne. Microdermabrasion performs exfoliation and opens the pore, allowing deeper penetration of an acid peel. These treatments refresh by removing discolored skin cells. They work wonders on acne-prone skin – pores are unplugged and blemishes shrink. After treatment, it is normal for skin to be dry and peel for a few days, then expose new evenly pigmented skin.
A series of 4 to 10 treatments is recommended, scheduled approximately every 2 to 6 weeks for dramatic results. You may see a difference in skin tone after the second or third treatment.
BBL-Broadband Light Laser (phototherapy)
It is the most innovative technology for the treatment of skin conditions associated with sun damage and discoloration. BBL utilizes the power of pulsed light to gently heat the upper layers of your skin. The heat of this laser treatment will stimulate your skin cells to generate new cell growth. This will help restore your skin by eliminating many of the unwanted hyperpigmented areas.
This type of laser treatment is ideal for correcting signs of sun damage on the face, neck, chest, shoulders, and back of hands, with minimal discomfort. After the procedure, the pigmented areas may be darker than they were before. Over the next several days, these areas will begin to fade and flake off, leaving the skin smoother, brighter, and healthier. This is a noninvasive and gentle procedure. In most cases, you will be able to return to your normal activities the same day.
It may take 2 to 5 treatments spaced 2 to 4 weeks apart to eliminate the discoloration. We have had very positive feedback from our patients after BBL treatments at Enza Medispa.
Lifestyle Changes for Reducing Brown Spots on Skin
One of the best ways to reduce brown spots on the skin is through lifestyle changes. Annual skin evaluations are recommended for everyone, especially those who have common skin concerns such as age spots or melasma. A skin specialist can assess your individual needs and recommend appropriate treatment options that don't involve invasive treatments or medications.
The majority of people suffering from discoloration can find relief by controlling the production of melanin in their skin with diet and lifestyle changes. Eating a healthy balanced diet with plenty of leafy greens, fruits, and vegetables can help restore balance to the body and reduce excess pigmentation. Additionally, exposure to sunlight should be limited as it will only make the discoloration worse over time. Wearing sunscreen when outdoors is also important for protecting your skin from further damage. With these simple changes, you may soon see a reduction in brown spots on your skin without any invasive treatments or medications!
When to See a Dermatologist for Brown Spots
If you have noticed brown spots on your skin that don't seem to be fading or improving with topical treatment, it may be time to consult a dermatologist for a skin evaluation. Hyperpigmented skin can often be effectively treated with a combination of treatments tailored to your individual needs. After a full skin consultation, the dermatologist can recommend the best course of treatment based on your skin texture and the extent of discoloration. Treatment options may range from topical creams and ointments to laser therapy and chemical peels. Your dermatologist will work with you to create an individualized plan that addresses all of your concerns while providing long-term results.
If you are suffering from brown spots or discoloration on your skin, don't wait any longer to take action. Schedule an appointment with our skin specialist Dr. Ewings today to discuss the treatment options that are available for reducing dark spots and restoring balance to your complexion. With the right lifestyle changes and professional treatments, you can say goodbye to brown spots and enjoy beautiful skin!